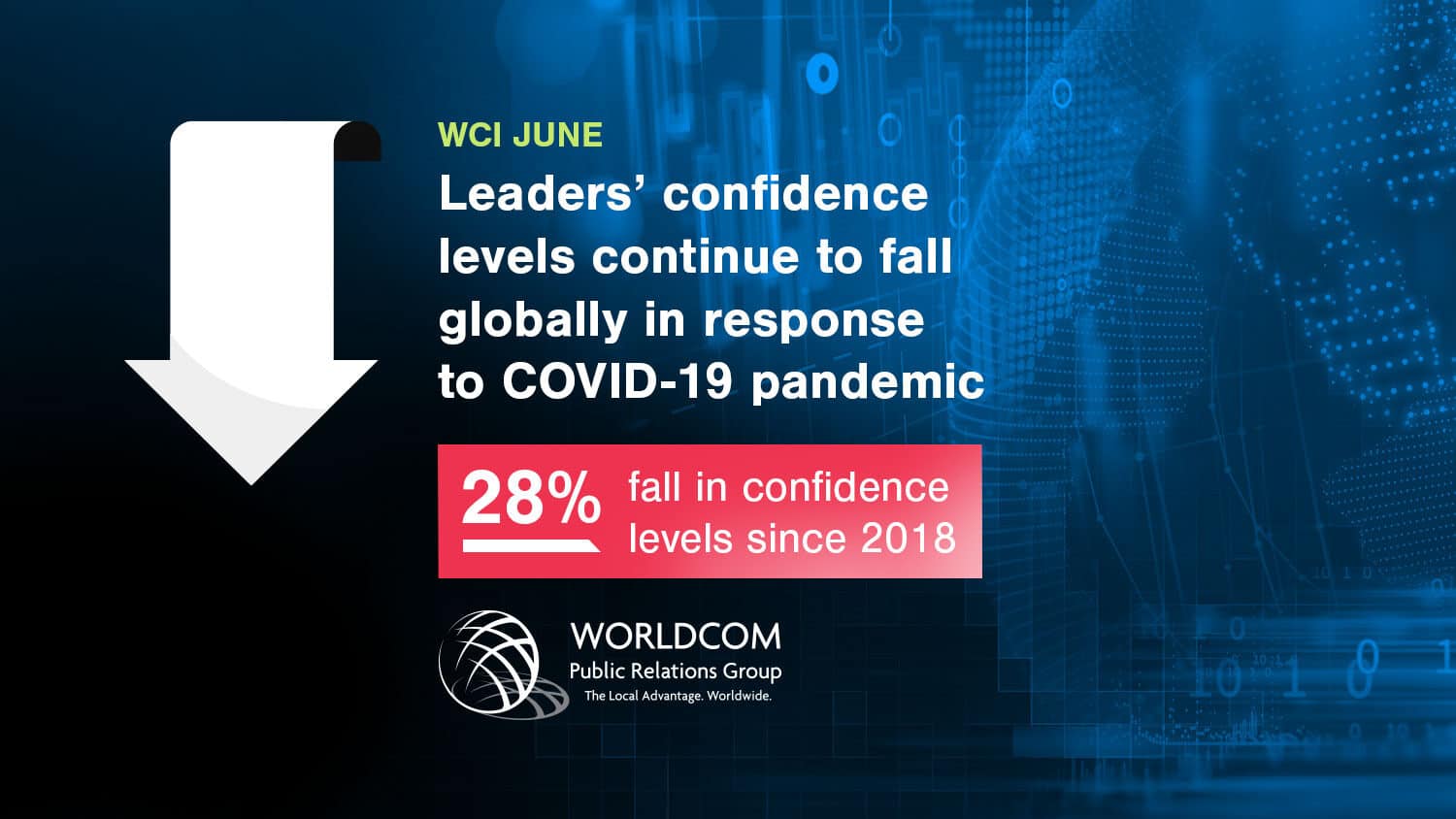 Leaders' confidence levels continue to fall globally (WCI)
10 August 2020
The global Worldcom Confidence Index (WCI) June results, drawn from over 54,000 CEOs and CMOs around the world, highlight the need for a greater focus by leaders on reputation management, employee engagement and brand building.
The Confidence Index highlights the issues that are uppermost in leader's minds as they respond to the rapidly changing landscape of the Covid-19 pandemic and navigate significant business challenges.
Telling signs for the economic crisis to come
The impact of the COVID-19 pandemic is having a greater impact on leaders globally over the age of 65, whose confidence levels fell the most since June – down 4%.
As this age group has experienced more recessions and crises than any other group, this decline in their confidence may be a bellwether for the severity of the economic crisis unfolding.
This group also experienced a similar decline in confidence (-4%) in the ability to drive future success.
Worldcom expects to see this group's confidence levels fall further in the July results.
Is Zoom fatigue a new factor?
An interesting result in June reveals a decline in confidence in leaders' ability to use technology to collaborate and innovate. This is likely due to the increased pressure and expectation to do everything online as well as employees struggling to adapt to the lack of face-to-face contact. Despite the surge in the use of applications like Zoom and Microsoft Teams, this result may indicate a growing fatigue with online meetings and the expectation to be online savvy all the time.

Brand and reputation confidence falls
Brand and reputation confidence fell out of the top five CEO topics of confidence as these areas recorded saw the third largest decline in confidence, down 5%. Potential concerns over the handling of the Black Lives Matter crisis saw leaders' confidence in corporate image and brand reputation decline.
READ OUR INSIGHTS: Managing your brand and reputation during the COVID-19 crisis 
Employee related topics still top priority for leaders
Employee-related topics continue to feature in five of the top eight places for priority focus by leaders with all but one recording an increase in the level of leader engagement and discussion.
Upskilling and reskilling – the #1 topic (up 6%)
Retaining talent – the #4 topic (up 1%)
Economic migration – the #5 topic (no change)
Employee engagement – the #6 topic (up 1%)
Employer brand – the #7 topic (up 2%)
Influencers remain top audience for leader attention
Influencers extended their lead as the top audience for leader attention (up 3% since May) however, confidence in their ability to satisfy influencers fell by 8%. It is becoming clear that organisations are working to garner support for the decisions they take to position themselves for recovery but they are uncertain and concerned about how influencers may negatively react to their response to the crisis.
READ OUR PERSPECTIVES: How to utilise authentic influencers: post Covid-19 recovery
About the Worldcom Confidence Index Report
Advanced Symbolics Inc.
For the Confidence Index, Worldcom commissioned Advanced Symbolics Inc. (ASI), a research company that uses artificial intelligence (AI), to create a fully representative understanding of what audiences are saying. The Artificial Intelligence provides an unrivalled view of trending topics and leaders' confidence and concern in addressing them.
About Worldcom Public Relations Group
Phillips Group is a founding partner of the world's leading partnership of independently owned public relations firms Worldcom Public Relations Group, with 143 offices employing over 2,000 staff in 115 cities across six continents. In total, Worldcom partners reported combined revenue of US$288 million (2018) from 3,034 clients.